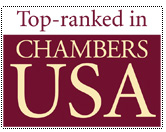 Douglas Draper and William Patrick were listed by Chambers USA as Band One lawyers and Tristan Manthey was added to the list of notable lawyers in Bankruptcy/Restructuring in Louisiana.
Douglas Draper maintains his outstanding debtors' and creditors' rights practice, with commentators describing him as "a creative, practical attorney ans a very determined litigator who can stand his ground." He is considered to be eminently capable of handling the most complex commercial and business cases for bondholders, creditors' committees and debtors. He offers noted experience in matters pertaining to the oil and gas industry.
The "fantastic" Tristan Manthey continues to excel in the bankruptcy arena, handling complex Chapter 11 reorganizations, out-of-court workouts and insolvency litigation.
William Patrick represents debtors, committees and trustees in connection with the restructuring of leisure, utilities and broadcasting companies, among others. He also offers experience of toxic torts and product liability claims arising from bankruptcy. Interviewees agree that Patrick is "a very accomplished lawyer."